WELCOME to Calhoun County Schools
Where we are Focused on the success for ALL!
Mission Statement

It is the mission of the Calhoun County School System to reach and promote the needs of every child in terms of their abilities, learning styles, interests, and diversities. Working in collaboration with all stakeholders, the Calhoun County School System challenges all students to reach their highest levels of achievement through rigorous, high-quality instruction while providing a safe and positive environment.
Focused on Community

Focused on Excellence

AdvancED is dedicated to advancing excellence in education worldwide. The North Central Association Commission on Accreditation and School Improvement (NCA CASI), Northwest Accreditation Commission (NWAC), and the Southern Association of Colleges and Schools Council on Accreditation and School Improvement (SACS CASI) are accreditation divisions of AdvancED
Accreditation is a voluntary method of quality assurance developed more than 100 years ago by American universities and secondary schools, and designed primarily to distinguish schools adhering to a set of educational standards. The accreditation process is also known in terms of its ability to effectively drive student performance and continuous improvement in education. But such definitions, though accurate, are incomplete.
Calhoun County Schools is a fully accredited district.
In an effort to improve system practices, the Calhoun County Board of Education is conducting a Parent Survey. We value your opinion and ask that you take the time to complete whis survey. Please be assured that your responses to this survey will be anonymous. Your honest opinion is appreciated. Thank you for your time!

Calhoun County Schools Make TV24 News!






Board Meeting Agenda



Minutes Approved 9-25-14 -Board Meeting (September 4, 2014 and September 9, 2014)
Minutes Approved 11-18-14 -Board Meeting (September 25, 2014, October 23, 2014)
Minutes Approved 11-18-14 -Board Work Session (October 23, 2014)
Minutes Approved 1-22-15 -Board Meeting (November 18, 2014)
Minutes Approved 2-19-15 -Board Meeting (November 18, 2014)
Minutes Approved 3-19-15 -Board Meeting (February 19, 2015)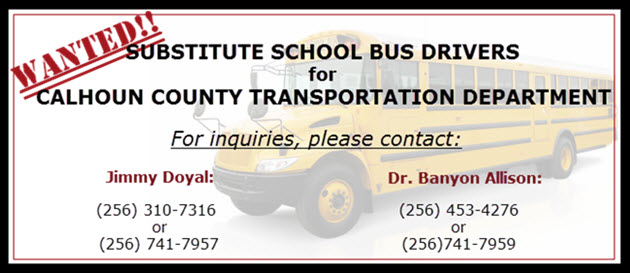 Important Info
Substitute Info
Lunch Menus
Calendars
CCBOE Connections
News & Events
4/22/2015
Congratulations Ohatachee FBLA
Congratulations to the following FBLA members from Ohatchee for winning in the state FBLA competition.


1st in State
Parlimentary Procedure Team
Faith Walker
Makenzie Hanks
Taylor Calhoun
Madison Hanks
Coleman Teaford

1st in State
Intro. to Parlimentary Procedure
Kody Coppock

2nd in State
Agribusiness
Kaysie Freer

4th in State
FBLA Principles & Procedures
Caleb Montgomery

3rd in State
Impromptu Speaking
Kaleb Turner

4th in State
Intro. to Info. Technology
Chris Bearden
3/30/2015
Wellborn High is Having a Plant Sale!
It's that time again! Wellborn High is having a plant sale and would love for you to come by and see what they have to offer! Click on the link below to see a list of plants available for purchase:

Plant Sale!!
3/11/2015
White Plains Raising Money to Fund Robotics Competition
Every year there are a number of competitions hosted by VEX Robotics. This year White Plains High School has had the opportunity to attend six of them, including the Alabama State Championship Tournament. They won multiple awards such as the design award, judges award, and the excellence award. They are now given the opportunity to travel to Council Bluffs, Iowa to compete in another competition. They are raising money to pay for this trip and could use your help!


Click on the gofundme link to donate

OR

Email Bo Shaw for further information on how to contribute to this cause!